---
69000 vehicles! Ka You Brand Side Refurbishment Model Grand Release
21 Sep,2022
---
On September 21, 2022, the launch event of the new Caryou brand rollover model was held at Luoxiang Group. Through multiple optimizations and upgrades, as well as more advantageous prices, this new product may bring new changes to the industry.
As a leader in the Chinese specialized vehicle manufacturing industry, since its establishment, Luoxiang has focused on the corporate vision of "becoming the world's first brand of specialized vehicles", guided by the core values of "customer first, unity, struggle, and loyalty", adhered to the development principle of "technology as the guide, innovation as the driving force, and quality as the market", and relied on research platforms such as Luoxiang Automotive Research Institute, R&D Center, and Postdoctoral Research Workstation, Continuously carry out research and development of lightweight and practical products, continuously improve the technical content of products, and meet the diverse needs of users. At present, Luoxiang has ranked first in the country in terms of single factory production and sales for six consecutive years.
Faced with the tight global energy market, high material prices and other international environmental factors, as well as the impact of domestic epidemics, transportation obstacles, and skyrocketing oil prices, the demand for more economical and practical car models among cardholders is increasing. Luoxiang Group adheres to the principle of putting customers first and adapting to the market, providing users with comprehensive vehicle and service guarantees. On April 18, 2022, Luoxiang Group launched a new car model of Kayou brand, with a market share of over 80%, which meets the needs of warehouse gate semi-trailer users. The new product released this time is custom-made for the rollover market with the Kayou brand trailer.
Luo Zong, Chairman of Luoxiang Group, stated that this time, based on China's national conditions and industry pain points, Luoxiang Group has optimized design, upgraded technology, and ensured product safety and reliable performance on the basis of mature rollover models. It has once again compressed profits and launched a limited edition of the new Caryou brand rollover model with a price of only 69000 yuan! Once again, it has broken the historical price range of overturned car models in the industry and continues to provide economic and practical profit making tools for frontline card enthusiasts.
Comprehensive upgrade, balancing lightweight and reliability
Sharp tools make good work. In recent years, Luoxiang Group has continuously increased its investment in talent and funds. Through five years of unremitting efforts, it has built a modern trailer manufacturing factory with intelligent workshops, automated equipment, and informationized management. The new factories have been put into operation one after another, achieving true standardization and modular manufacturing. As a result, product quality has steadily improved, production efficiency has significantly improved, and technology and cost advantages have been prioritized in the industry.
It is understood that the new Caryou brand side flip frame adopts a shaped hole design, which not only reduces weight but also increases load-bearing capacity. At the same time, the frame and cargo compartment of this product are made of Baosteel material, achieving a better balance between strength and toughness. Through multiple lightweight designs, the product has a self weight of only 6.5 tons, which can better achieve multi pulling and fast running, fuel saving and consumption saving, and help truck drivers reduce operating costs.

In terms of reliability, the new product adopts a patented design of a super large cross-section integrated flipping structure, which achieves the concentric flipping pivot and oil cylinder. When flipping and unloading, the force is more uniform, and lifting is easier, which can effectively protect the subframe from twisting; At the same time, the entire vehicle's paint surface has been upgraded to electrophoretic powder coating, which has better adhesion and paint weather resistance for up to 7 years, achieving a higher operating cycle for the product.
In addition, it is worth noting that in terms of safety, the new Caryou brand side flip product has adjusted the distance between the pivot points on both sides of the flip, reduced the swing range of the edge beam, reduced collisions, and significantly improved the safety of the flip. The hydraulic system also adopts a high-quality customized 6+1 oil cylinder structure, with more uniform force on the auxiliary beam, smoother lifting, and more stable performance, reducing the risk of overturning during unloading. At the customer appreciation dinner held that night, the enthusiasm of the card friends was high, and they couldn't help but place orders enthusiastically. During the banquet, everyone drank and chatted enthusiastically, full of anticipation for new products, and full of confidence in connecting with the future industry and life!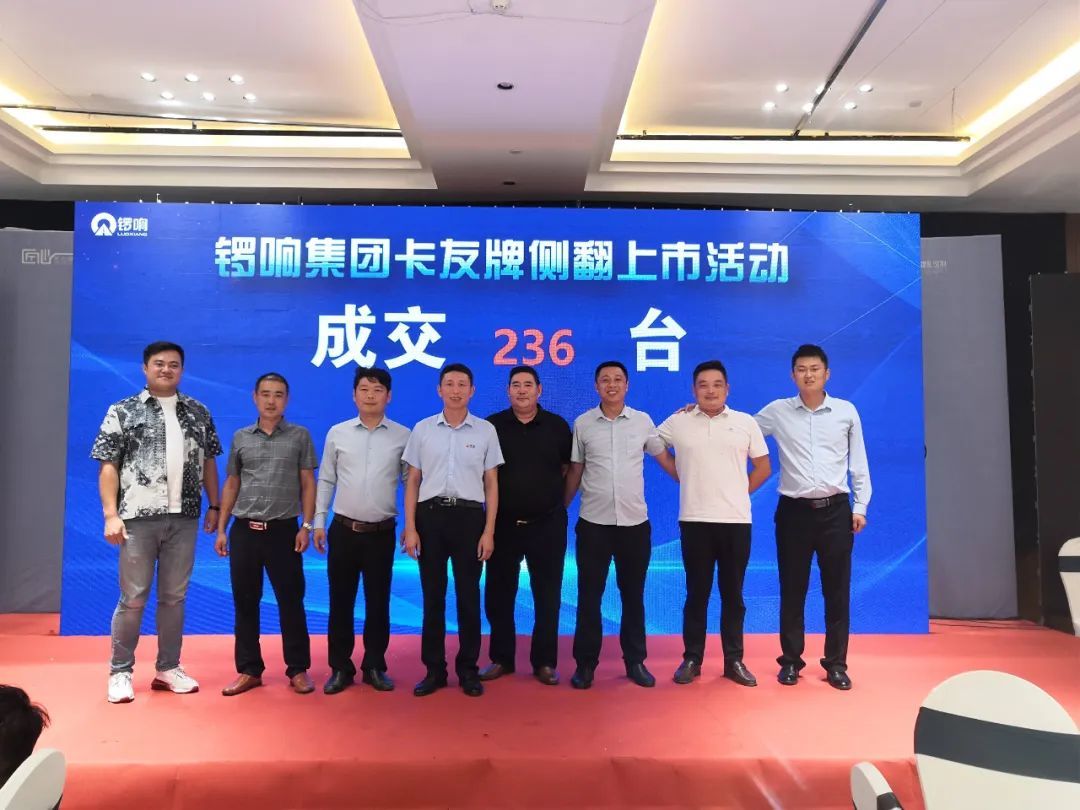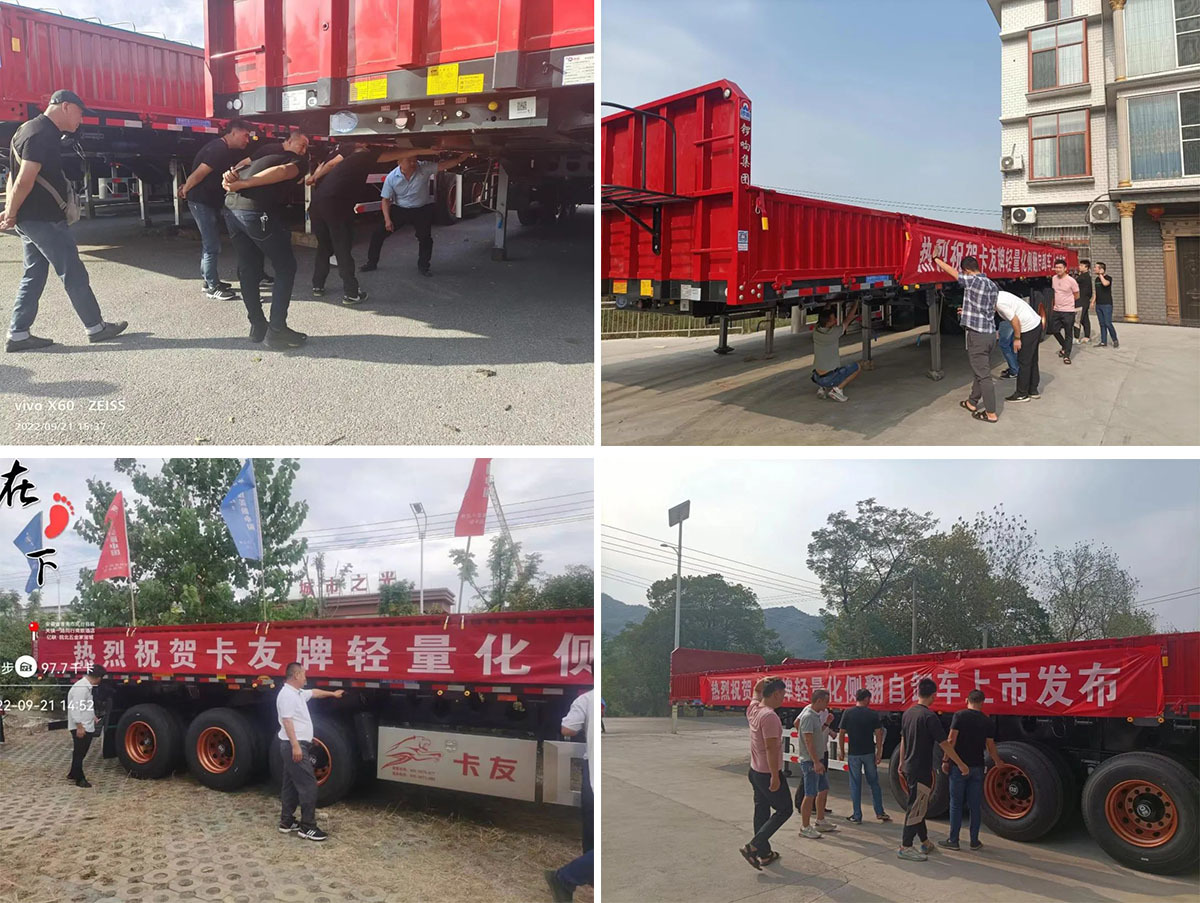 Comes for card friends and gathers masterpieces. With its own advantages, Kayou brand's side flip new product will provide the industry with a new choice, and this product is bound to once again rise against the trend and become a "popular" product in the industry! I believe that the market and cardholders will provide good answers.